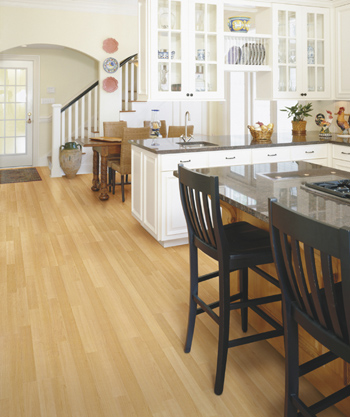 Buying a hardwood floor involves quite a few decisions.  And one big one is the question of 'grade', of which there are many between species, and sometimes with various names, too.  Despite the detail involved here, what you're often left with as a consumer is the idea that grades are meant to reflect the level of quality you're getting.  But, that's a big misconception.  Let me explain further.
Hardwood flooring: Beauty On A Spectrum
As a natural product, hardwood flooring demonstrates color variation in a spectrum, not hard-and-fast hues that can be considered uniform.  Also, with some species, these colors can change over time due to photosensitivity. Further, hardwood floors show a history of growth to varying degrees.  Knot-holes, mineral streaks, pronounced color contrast are all examples of what I mean when I talk about 'history of growth'. All of these visual factors, much like the idea of colors on a spectrum, go into what is meant by hardwood floor grading.  They exist on a spectrum, too. And that's what any grade of hardwood flooring actually measures.
Hardwood Floors: History of Growth
Grading is about look, not about quality.  Here are some examples of what I'm talking about. Let's say you're something of a history buff. You like to be reminded of this history of growth in your flooring which I mentioned earlier. You're looking for a flooring surface that looks like it's had some 'experience'.  Or, maybe you just have an appreciation for a flooring surface that reflects the rugged beauty of nature, blemishes and all.  But of course, 'blemishes' in this sense isn't looked upon by you as a liability.  It's a feature.  It's what you think about when you think 'hardwood flooring'. Well, there's a series of grades for what you're looking for.  It's been called 'rustic', 'folk', or 'common' (#1, or #2).  And it will deliver the look you've got in mind.  Let's say it's maple hardwood flooring you're most interested in. This is what a maple floor will look like specifically, according the above grades.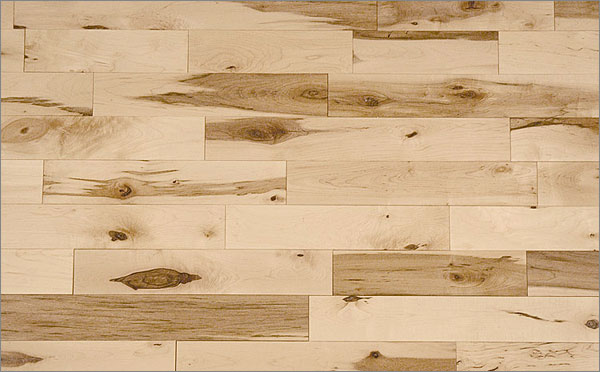 The Hardwood Floor As a Refined Surface
Now, it could be that you are looking for a hardwood floor, and you know that you're going to get some variation in terms of the color spectrum in your particular batch of flooring. But, what you've got in mind is something a little bit more refined.  You like the color spectrum a natural product offers. But, you want that spectrum to be more subtle. And you want a surface that isn't characterized by too many 'marks'.  You certainly don't want any knot-holes, or streaking.  You want a clean look.  In your mind, wood floors are about a subtle tone, and an effect that allows for elegance. Once again this is where grading is immensely helpful.  Let's take the maple hardwood flooring example again, only this time applied to grades like Clear, and Select & Better grades, which are the ones which correspond to the aesthetics described above.  Here's what that kind of floor is going to look like.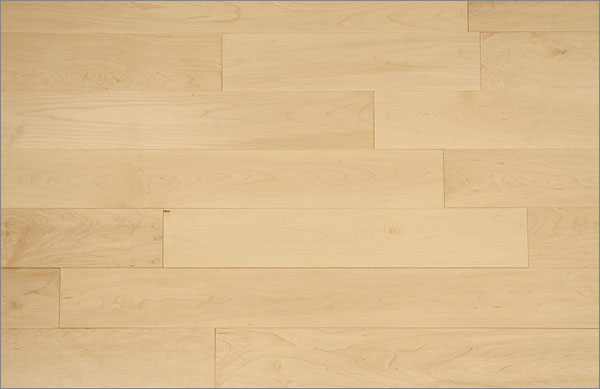 Hardwood Flooring Grades: All About Your Expectations
The bottom line is this.  The grade of your hardwood flooring is not about how durable it is, or about how long it will last.  It's all about aesthetics, and your expectations of what wood floors are supposed to look like.  When you're looking to buy hardwood flooring, one of the conversations to have is to decide what kind of visual effect you want.  Then, start that conversation with your vendor about the best grade of hardwood to invest in, according to the species you're most interested in. One of the great things about hardwood is the level of choice you have when buying it.  And grading systems help you to decide where to start.
***
Rob Jones is chief blogger and social media practitioner at BuildDirect, a hardwood flooring vendor selling hardwood floors online. You can read more from Rob, and from guest bloggers on the subjects of building materials, interior design, and more, on the BuildDirect blog. You can follow BuildDirect on Twitter, and 'Like' the BuildDirect Facebook page.